Why is macadamia oil called "vanishing oil"?
We associate "vanishing oil" with magic trick, where magician places bottle of oil in his hat and after awhile he takes out a rabbit. It can also remind us of a food oil, which disappears from the frying pan, because it burnt out. Rather no one would say that "vanishing oil" is just a colloquial name of macadamia oil. Why vanishing? And why oil made of this particular nuts of this particular tree? Below, you get to know everything on this subject.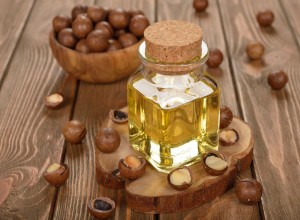 To explain "vanishing" properties of macadamia oil, we need to discus its characteristics more thoroughly. Most of all, macadamia oil is an endless source of unsaturated fatty acids, among many complex of omega acids (omega-3, omega-6 and omega-9), but not just those. Very interesting ingredient of macadamia oil is palmitoloeic acid, which also is consider to be omega acid, though is their less known representative. It is usually called omega-7 acid. Thanks to this ingredient macadamia oil owes its properties. And what is so characteristic about palmitoloeic acid?
Omega-7 is a rare fatty acid, that is why we know really little about it. We certainly don't realise that it is one the most important ingredients, responsible for skin structure. It means that deficit of this acid in organism can cause worsening of skin, hair and nails condition. Omega-7 acid mostly regulates composition, level and properties of human sebum, and as we know sebum is responsible for preventing water loss. The conclusion is simple – the more omega-7 delivered to skin the better hydration and right level of moisture.
Researches show that macadamia oil – thanks to omega-7 – indicates impressive compatibility with human sebum. It means that our skin or hair absorb it immediately. Some say even that absorption of macadamia oil is pure magic, because it absorbs swiftly and doesn't leave a trace. To see for yourself that macadamia oil is a "vanishing oil", you can make a simple test. Apply some macadamia oil on hands and rub it. Oil will absorb entirely after few minutes. Because of this properties, macadamia oil is perfect for oil treatment.