Macadamia Oil by Nanoil. The best, the purest, the original
The most favored oil by hairdressers and cosmetic industry. One of the most widely recognized of all natural oils. Despite being rich in nourishing substances, it absorbs into skin in no time bringing beauty to the inner structures of hair and dermis. Which macadamia oil is the best one? You don't have to guess any longer – simply choose the oil which quality is the highest. Thus, look for organic, unrefined and cold-pressed oil launched by Nanoil. See on your own skin what it means to be gorgeous!
Macadamia Oil by Nanoil: Purpose
Body-Face-Hair-Hands-Feet-Fingernails
All face skin types, including normal, dry, combination, mature.
All body skin types, including skin that lacks smoothness, elasticity, hydration and is flabby. Skin affected by stretch marks and cellulite.
Weak and sensitized hair, deprived of shine, without intensive and deep colour, dyed, with dry ends, thin, unruly and delicate, of medium and high porosity, damaged, and hair that is frequently blow-dried.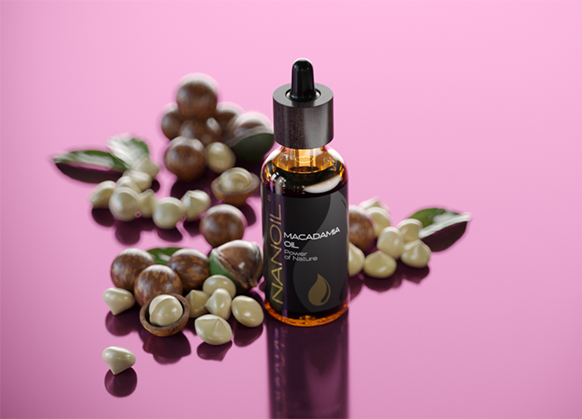 Macadamia oil in beauty industry

It has a high concentration of unsaturated fatty acids and lovely amber colour. It contains vitamins valuable for hair and skin: A, D and some of B-group, and additionally phenols and lecithin. Moreover, macadamia oil can be used as a single-ingredient cosmetic that absorbs incredibly fast and is well-tolerated by skin, prevents water loss (TEWL) and deals with dehydration of epidermis.
Moreover, macadamia oil found its application in healing skin marks (including post-acne marks), skin cuts, stretch marks and additionally it's almost unbeatable when it comes to dealing with cellulite.
Also, it's able to protect skin against ageing. To clarify, macadamia oil shields cells against free radicals as well as accelerates and stimulates their self-renewal processes. As it's plain to see, macadamia oil counteracts wrinkles and slows down ageing processes.
Additionally, this oil softens, moisturizes and smooths both skin and hair. It's powerful enough to heal small skin injuries and soothe irritations. Basically, it can be used to treat tanned skin as well as protect the body while exposing the skin to the sun (features natural UV filter and shields skin against harmful solar radiation). Macadamia oil also protects epidermis and hair against exhaust fumes and toxins, which are typical for cities and towns. This oil's protective function also includes dealing with high temperatures (i.e. hot air stream generated by a hair dryer).
To sum up, macadamia oil is suitable for taking care of dry, irritated, ageing skin as well as hair that is deprived of shine and damaged due to frequent dyeing. Applying the oil to damp hair right after washing reduces the drying process.
Why Nanoil Macadamia Oil is the best?
it's 100% organic, genuine macadamia oil (INCI: Macadamia Ternifolia Seed Oil)
extracted from raw material certified by Ecocert
free from parabens, SLS, synthetic colorants, mineral oils, paraffinic oils, silicones, PEG and gluten
unrefined
cold-pressed
high quality
pure essence of what's best in macadamia nuts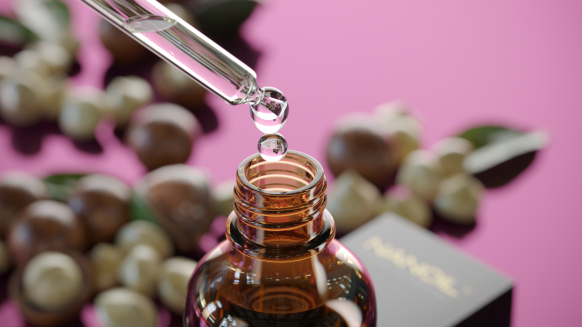 Nanoil Macadamia Oil – Effects
delivers natural regeneration to hair and skin
fights back cellulite, reduces stretch marks
has anti-ageing effect
lightweight, well-absorbing
softens and smooths out epidermis
soothes and relieves skin irritation
accelerates healing up of skin injuries
protects against toxins and free radicals
protects and nourishes colour-treated hair
intensifies colour and shine of hair
conditions and smooths out strands
reinforces hair ends
regenerates fingernails
ensures heat protection
Nanoil Macadamia Oil. How to use?
1. Apply pure macadamia oil directly to skin, hair and nails.
2. Use as an addition to face/eye creams, clay masks, homemade and drug store masks, scrubs; combine with hair conditioners and body balms.
3. As a carrier oil of essential oil blends (use it mainly to skin lifting, relaxing or anti-cellulite body massage).
4. As an addition to baths (body, hands and feet) and other natural oils.
5. Use for hair oil treatment, as a hair mask and hair end serum.
6. As a shave oil and post hair removal soothing agent.
7. Apply after sunbathing to enhance tan.
8. For oil cleansing method.
9. As a strengthening and regenerating nail and cuticle conditioner.
10. As a beard oil.
Unrefined macadamia oil: Price

Macadamia oil is the finest natural cosmetic. Although a regular 100% organic, genuine and certified oil doesn't belong to the cheapest products, macadamia oil doesn't cost that much when compared to other exotic oils. Apart from being extracted in a really diligent way that requires use of plenty of raw material, macadamia oil won't ruin your budget. Additionally, macadamia oil is exceptionally effective so you can enjoy using it for many long months.
Nanoil Macadamia Oil: Consumer Opinion

Macadamia Oil by Nanoil is a product which action is appreciated by many satisfied users. It's recognized as a perfect and versatile cosmetic that is said to produce only positive effects in face, body and hair care. No matter the body area you want to treat with macadamia oil – whether it's hair, rough skin or fingernails – it always brings out the desired outcomes. Last but not least, macadamia oil serves well as a constituent of homemade cosmetics. It blends with other natural oils easily.